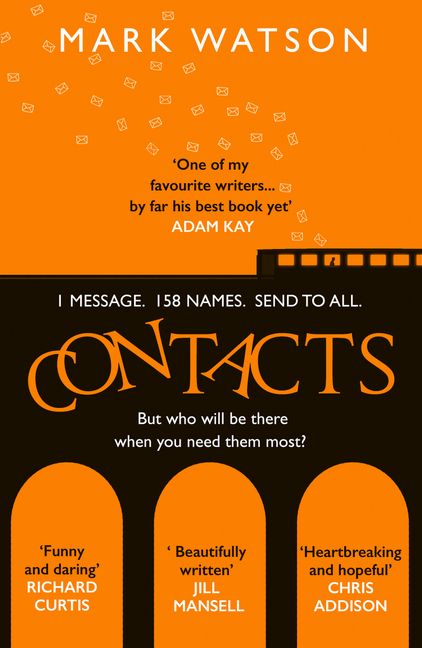 Description
James Chiltern boards the 23:50 sleeper train from London to Edinburgh with two pork pies, six beers and a packet of chocolate digestives. At 23:55 he sends a message to all 158 people in his contacts, telling them that he plans to end his life in the morning. He then switches his phone to flight mode. He's said goodbye. To him, it's the end of his story – and time to crack open the biscuits.But across the world, 158 phones are lighting up with a notification. Phones belonging to his mum. His sister. His ex-best friend. The woman who broke his heart. People he's lost touch with. People he barely knows. And for them, the message is only the beginning of the journey.

Funny and wise, tender and deeply moving, Contacts is a beautiful story about the weight of loneliness, the importance of kindness – and how it's never too late to reach out.
My thoughts
This is a powerful cautionary tale. James has reached the end of his emotional endurance, feeling insignificant and shunned or forgotten by his friends and family. He decides to end his life and sets off on an overnight train journey to the place he has chosen to die. En route he sends a text message to the 158 contacts on his phone, and then switches it to flight mode so that he doesn't have to deal with any responses.
From here the story is told from the points of view of his former best friend, his ex-girlfriend, his flatmate, his sister, and his mother as they reflect on their relationships with James and where they may have failed him or done better, interspersed with James reflecting back on the pivotal moments in his life that have brought him to this point. The chapter headers show the clock ticking toward 7.30 a.m. when the train will arrive at its destination, which enhances the sense of urgency.
I can honestly say there were elements to almost every point of view that I could relate to, and some hit close to home in this era of everyone being busy and how easy it is to lose touch with loved ones because we always assume there is more time. As a result I felt emotionally invested in the outcome and sat up to find out how it ended. Which is all I will say as I don't want to give away the ending.
The afterword by the author sums it up well:
"'Contacts' is about the fact that, for all its dangers, the age of instant communication gives us what is basically a superpower … If only we choose to use it."